Manager, Customer Operations – Veho Technologies
Customer Service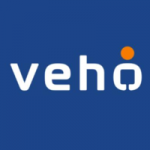 Veho Technologies (51-200 Employees, 625% 2 Yr Employee Growth Rate)
314% 1-Year Employee Growth Rate | 625% 2-Year Employee Growth Rate | LinkedIn | $4.2M Venture Funding
What Is Employee Growth Rate & Why Is It Important?
About Veho
Veho's mission is to revolutionize the world of package delivery by creating exceptional experiences for customers and drivers.
For too long, parcel delivery companies have focused solely on efficiencies and cost management. Veho focuses on the end customer. As the first technology company of its kind, Veho replaces the old delivery trucks with a two-sided crowd-sourced platform and a network of hyper-local distribution centers. Veho is disrupting the logistics space through our technology. We put the customer at the center, replacing the old model of fleet vehicles doing package delivery. We partner with some of the most recognized consumer brands such as Warby Parker and Hello Fresh to provide an incredible experience with every delivery and give customers controls on how, when, and where their package is delivered.
Customers LOVE us. Despite growing at a record speed over the past two years, we maintain an incredibly high customer satisfaction rating of 4.9/5 stars and an unprecedented on-time delivery rate of 99.9% – far above every other company in the country.
In short, we are building the logistics platform of the future.
Veho is backed by former top executives and board members at Uber, FedEx, UPS, eBay, and Amazon; three former public company CEOs, and early investors in Lyft and Instacart. We are a team of leaders who are passionate about building an incredible company that will change the face of this industry.
About the Role
Veho uses a network of independent contractor drivers to complete last-mile package deliveries to customers. The Customer Operations team is responsible for a) ensuring the optimal customer experience from the beginning of the package journey to the final receipt of the package, and b) helping maintain our high standards for on-time delivery and customer satisfaction (CSAT). We are a brand new team at Veho with the goal of becoming a highly capable, diverse, and values-driven team, and we're looking for strong candidates to help achieve our ambitious goals.
As a Strategy & Ops Manager on the Customer Operations team, you will develop a deep understanding of Veho's operation and the delivery lifecycle, and lead projects to improve the customer experience as our business grows rapidly. Veho's mission is "to help brands increase customer loyalty by providing an incredible delivery experience" and this team will be at the forefront of making that mission come to life.
Candidates must be comfortable working with data and leading analysis independently. Our team is data and insights-driven, so you'll need to be comfortable combining both qualitative and quantitative insights to make decisions. You must also be able to translate these insights into action and have the ability to manage the implementation and execution of complex projects.
This is a unique opportunity to be a part of a fast-growing team with massive potential for career growth.
A great candidate:
2+ years of experience that includes project management, analytics, and/or problem-solving
Is excited about digging deep into the data
Can translate complex analyses into actionable insights tied to business goals
Can lead execution of complex initiatives and processes using project management best practices
Thrives in a fast-paced environment, and is comfortable shifting priorities based on new insights and business needs
Proficient in SQL
Can think critically about problems and priorities, and isn't afraid to challenge the status quo
Is a self-starter and has a desire to learn and grow
Is detailed-oriented and an excellent verbal and written communication
In this role, you will:
Create and execute a roadmap to solve root causes of sub-five starCSAT and misses for on-time delivery
Create a methodology for segmenting customers and determine the appropriate ways to engage them
Identify, create, and execute on operational standards to reduce poor driver and support interactions customers have in existing and new markets
Collaborate with Product, Ground Operations, Driver Operations, Marketplace Operations, and Support to identify and address the biggest opportunities to improve the customer experience across markets
Improve processes to ensure the team is ready to improve and maintain the customer experience as the business grows 5x