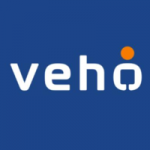 Veho Technologies (51-200 Employees, 625% 2 Yr Employee Growth Rate)
Veho is an end-to-end parcel delivery carrier for e-commerce companies.
314% 1-Year Employee Growth Rate | 625% 2-Year Employee Growth Rate | LinkedIn | $4.2M Venture Funding
What Is Employee Growth Rate & Why Is It Important?
About Veho
Veho's mission is to revolutionize the world of package delivery by creating exceptional experiences for customers and drivers.
For too long, parcel delivery companies have focused solely on efficiencies and cost management. Veho focuses on the end customer. As the first technology company of its kind, Veho replaces the old delivery trucks with a two-sided crowd-sourced platform and a network of hyper-local distribution centers. Veho is disrupting the logistics space through our technology. We put the customer at the center, replacing the old model of fleet vehicles doing package delivery. We partner with some of the most recognized consumer brands such as Warby Parker and Hello Fresh to provide an incredible experience with every delivery and give customers controls on how, when, and where their package is delivered.
Customers LOVE us. Despite growing at a record speed over the past two years, we maintain an incredibly high customer satisfaction rating of 4.9/5 stars and an unprecedented on-time delivery rate of 99.9% – far above every other company in the country.
In short, we are building the logistics platform of the future.
Veho is backed by former top executives and board members at Uber, FedEx, UPS, eBay, and Amazon; three former public company CEOs, and early investors in Lyft and Instacart. We are a team of leaders who are passionate about building an incredible company that will change the face of this industry.
About the Role
As the Chief of Staff, you will triage and manage the workflow for Veho's CEO, including prioritizing, delegating, and completing work on his behalf. You will build structures and processes to strengthen cross-functional communication and drive business outcomes on identified company priorities. You will act as his proxy to enable greater visibility and remove blockers to decision making when he cannot be engaged. You will be a strategic thought partner on various decisions within the company and spear head special projects. You will manage cross-functional initiatives within Operations, Revenue, HR, Customer Service, Finance, and Technology. You will also work with the CEO to prepare for critical meetings internally and externally.
Responsibilities
Preparing materials for board meetings and content for Veho – wide meetings, including our all hands meeting
Serve as a key input to the CEO and senior management team, assisting in facilitating effective decision-making and removing roadblocks when possible
Managing investor communication
Building and facilitating monthly CEO newsletters
Organizing Veho exec offsites in coordination with the EA
Prep the CEO for external appearances, events and media inquiries
Work closely with the VP of People to execute the roadmap of initiatives to foster a sense of belonging in the organization to keep our culture strong
Strategic calendar management for the CEO, ensuring his time is most optimally utilized, and working in partnership with our EA to ensure execution
Urgent special projects as they arise
About you
At least 5 years in consulting or at a high-growth startup
Experience leading complex, cross-functional projects.
Excellent executive presence and the ability to communicate at any level of an organization.
Strong analytical ability–Excel/Google Sheets
High level of integrity and accountability
Ability to distill complex information into the most important parts and problem solve
Incredibility organized with impeccable attention to detail
Ability to travel as necessary
Ability to operate in high-levels of trust and confidentiality