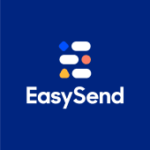 EasySend (51-200 Employees, 75% 2 Yr Employee Growth Rate)
EasySend helps banks and insurance companies to quickly convert manual process and PDFs into digital experiences.
41% 1-Year Employee Growth Rate | 75% 2-Year Employee Growth Rate | LinkedIn | $16M Venture Funding
What Is Employee Growth Rate & Why Is It Important?
DESCRIPTION
EasySend NO CODE Intuitive SaaS Platform enables insurance companies, agencies, banks, and other financial institutions to free themselves from the constraints of traditional processes and drive digital transformation to increase customer acquisition rates, client retention, and satisfaction while dramatically reducing cycle time and costs associated with manual paper and code-based customer interaction processes.
We are looking for a highly motivated, resilient Enterprise Account Executive, to join our team!
You will continually ensure corporate growth and profitability by developing solid business relationships with prospects, selling into Executive/C-Suite. This is a greenfield opportunity to quickly exceed your goals in a rapid-growth market and be part of growing a business line from the ground up. You'll be collaborating with cross-functional peers in Product & Engineering, and also develop strategies and sales tactics to maximize your success. As a fast-growing startup, you will be working directly with the management and be reporting to the Director of Sales US.
Expectations:
Build and establish a pipeline of Qualify leads opportunities to align yourself for success in selling our cutting-edge technology in the regional territory within the insurance and banking industries
Execute and manage the sales process against a high volume of inbound & outbound leads
Build and maintain a robust sales pipeline
Lead contract negotiations
Conduct remote & in-person meetings/presentations for C-level executives and key stakeholders
You will use your excellent interpersonal communication skills to set demos.
You will assist in the creation and execution of email campaigns and business development cadences.
REQUIREMENTS
Have a successful, 3+ year track record as a Sales Leader
Experience selling B2B SaaS software solutions
Experience selling to C level position
Established track record of achieving and exceeding your annual sales targets
Bachelor or Masters Degree, preferably in Business, Finance, or similar field of study
Extensive experience providing solutions in one of the following areas: Insurance or financial service
Be known for customer intimacy and personal interaction with customers
Possess an entrepreneurial mindset – this is primarily a Hunter Role
Industry knowledge of insurance, banking, and financial services
WHO YOU ARE
Passion for Winning: Highly competitive and plays to win in the context of business. Enjoys the challenge of building a successful business and always gives 100% towards achieving set goals. Never compromises integrity or character in the pursuit of victory. Needs minimal supervision.
Drive for Results: Action-oriented and focused on winning good outcomes.
Collaborative Orientation/Influencing Skills: A team player, able to put aside a personal agenda for the good of the overall organization. Skilled at building relationships across the organization and influencing beyond his/her span of control. Has strong interpersonal skills and is able to gain support and respect through an open communication style and a balanced ego.
Problem Solving: Uses rigorous logic and methodologies to meet difficult problems with effective solutions. Wants to understand the factors behind the issues and challenges that face the business. Comes up with new ideas.
Effective Communications and Presentation Skills: Clear and concise in both oral and written interactions with customers and peers. Consistent and appropriate communications that are targeted to audiences, both internal and external. Practices attentive and active listening at all levels of the business. Comfortable and effective in formal and informal group presentations.