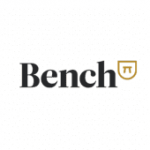 Bench / Bench.co (501+ Employees, 82% 2 Yr Employee Growth Rate)
Bench is the online bookkeeping service that pairs you with a dedicated bookkeeping team and simple, elegant software to balance your books.
38% 1-Year Employee Growth Rate | 82% 2-Year Employee Growth Rate | LinkedIn | $49.1M Venture Funding
What Is Employee Growth Rate & Why Is It Important?
What's Bench? Check us out in Medium, Betakit, Financial Post, Fintech Impact, Perkins + Will, BC Business, our Instagram, and our Blog.
*If you're viewing this post on a job board, please make your way to our careers page to view all the embedded links within the post to better understand Bench & this role
We acknowledge that Bench headquarters is located on the traditional, ancestral, and unceded territory of the Coast Salish Peoples, including the territories of the xʷməθkwəy̓əm (Musqueam), Skwxwú7mesh (Squamish), and Səl̓ílwətaʔ/Selilwitulh (Tsleil-Waututh) Nations.
A letter from our Head of Engineering:
Dear future Benchmate,
There has never been a more exciting time to join Bench. We're on our way to make a profound difference in the quality of life of a million people.
Finance is inseparable from the human experience. Our personal finances influence our mental and physical wellbeing, where we live, our education, our family structures, and the opportunities we do or do not have. In the mind of a small business owner, there is no distinction between their business finances and their personal finances. Working at a Bench isn't about fintech; it's about making a difference in the quality of life of human beings.
Bench is already the biggest bookkeeper in North America—we currently have over 10,000 clients, and in 2020 alone we processed $21B in transactions—and we're just at the beginning of our technological journey.
The next step for us is "Powered by Bench." Bench already partners with notable companies to make a difference for our shared customers. Now these partners are asking us for a "Powered by Bench" experience that lives directly inside their own UX. "Powered by Bench" is going to take us from tens of thousands of clients, to millions.
We need help. We're looking for software engineers who align with our mission of using technology to profoundly improve the lives of our customers at scale. What we do is immensely creative; it requires us to fall in love with the problems we're tackling, and then challenge ourselves to resolve them with the simplest solutions we can dream up. It is also immensely collaborative; our Technology teams work hand-in-hand with Product and Design, and also have deep ties across our service organizations. Only together can we create something truly groundbreaking for our clients.
Does this sound like how you want to spend your time?
If you join us, I promise that you will grow tremendously, live a rich life both at and away from work, and have a great time while doing it. Thanks for taking the time to read this. I can't wait to meet you.
Sincerely,
Blake Turner, Head of Technology
To be successful in this role, you'll need to have:
A resonance with our Bench and Technology principles
A breadth of knowledge across the frontend and backend
A depth of knowledge in either the frontend or backend
Demonstrable ability to work with a high level of autonomy
It's an even better fit if you have:
A high level of competence in Typescript (ReactJS/NodeJS)
A high level of competence in JVM languages (Java/Scala)
A high level of competence in AWS technologies
Bonus points if you have:
Experience mentoring more junior engineers
Another career before this one—you'll be surprised how much crossover there is
A passion that you want to tell us about!
The extra details:
This is a full-time permanent position because we want to spend lots of time with your wonderful self!
This position offers an annual salary, stock options, and an extended benefits package that includes health, dental, and vision.
All Benchmates have access to Inkblot Therapy, our virtual counselling service to support mental wellbeing, and Bravely, our confidential, on-demand, 1:1 professional coaching service.
Our salary band for this role is between $108,000-$135,000. We've recently made a change to our compensation process – learn more about why and what practices we're putting in place here.
Our office has gone fully remote! We'll set you up with everything you need to work from home, from day one.
For a deep dive on how we define Engineering roles at Bench, please see our competencies matrix. To learn more about how we do things, you can also read through our Technology Organization Handbook and our blog.
We believe that unchecked biases disproportionately impact the most marginalized people in society—including but not limited to BIPOC, LGBTQ2S+ people, immigrants, and people with disabilities. We strongly encourage applications from people with these identities or other marginalized communities because we believe that without you, we are all less. At Bench, we don't stand for tokenism. We stand for representation.