IT Systems Administrator – "CG Tech Services, Inc"
Dev Ops & SysAdmin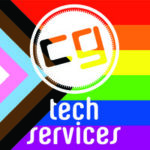 "CG Tech Services, Inc" (1-10 Employees, 2 Yr Employee Growth Rate)
1-Year Employee Growth Rate | 2-Year Employee Growth Rate | LinkedIn | $0 Venture Funding
What Is Employee Growth Rate & Why Is It Important?
Description
CG Tech Services is a Seattle-based Managed Services Provider and IT consulting firm focused on businesses and not-for-profits of 5-500 employees. We're looking for humble, motivated, and emotionally intelligent people to join our team.
Because we're growing, we're looking for a Remote IT Systems Administrator to help provide quality IT support to our clients in a wide range of products and services. You must be able to work in a fast-paced environment and demonstrate extraordinary attention to detail.
As this job posting is to an international audience with differing beliefs, please be aware that we are a progressive company with gay and trans team members and clients.
Job Description:
This role provides friendly, professional, and reliable service to our clients by quickly and proactively resolving incidents in their IT environments on time and on budget.
This is a full-time position of 40-50 hours a week. The majority of your hours worked would be during our Seattle business hours, Mon – Fri, from 8 AM to 6 PM PST in order to better collaborate with our team and our clients. Work after hours may be required for emergencies, projects, and maintenance activities.
This is an awesome opportunity for someone who:
– Loves a faster-paced, no-drama environment where office politics, backstabbing, gossip, and negativity are not tolerated.
– Is extremely detail-oriented and appreciates people who take an organized, systematic approach to achieve success.
– Likes the idea of working for a smaller (but growing) company where their ideas and contributions directly impact the company's success, direction, and growth.
– Is a quick, self-motivated learner who wants to work for a company that will invest in their education.
– Wants a position that will offer upward earning and career advancement; we want people who are interested in growth, learning, and becoming part of our team long-term.
Responsibilities:
– Provide technical support for our clients on workstations, servers, and networking equipment.
– Operate as part of the team responsible for the continued maintenance, operation, and security of client systems.
– Implement support tools and automation required to deliver on SLAs.
– Use ticketing system to communicate with clients, manage schedule and workload, and to compile detailed notes.
– Participate in shared 24×7 weekly on-call schedules.
– Attend training and pursue certifications as required.
– Answer phones to assist clients with technical issues.
– Provide expert recommendations for system upgrades, replacements, and new service additions to assist with client issues or holes in services.
– Implement, maintain, and upgrade the client and business systems and services.
– Complete other duties as assigned.
Requirements
Skills Required:
– Service-oriented, collaborative approach to client and teammate relationships.
– Excellent spoken and written English communication skills, with the ability to relay technical information to a non-technical audience.
– Must be detail-oriented; provide consistent and timely follow-through and documentation.
– Exemplary customer service skills, preferably with experience supporting external clients.
– Ability to work under deadline and on schedule and to plan work so that it is completed on time.
– Able to take the lead when needed, accept direction and feedback, and function as a member of a team.
– Ability to work regular business hours in the Seattle, Washington time zone (Pacific Standard Time 8-5) and some after hours for emergencies, projects, or maintenance.
Preferred Experience:
– Minimum 4 years of experience managing all current Windows client and server operating systems.
– Office/Microsoft 365 administration experience.
– Minimum 2 years of experience installing, administering, troubleshooting network equipment, such as firewalls, switches, wireless access points, etc.
Other Requirements:
– You will need to provide your own computer that is running Windows 10/11.
– Allow us to install software on your computer that keeps it up to date with security patches and anti-virus because we work with heavily regulated industries in the United States. Security precautions are paramount for us.
– Have a headset that connects to your computer to use our VoIP phone system to communicate with our team and clients.
– Have reliable internet access of at least 50 Mbps download and 20 Mbps upload speeds to work with our systems.
Benefits
Equal Employment Opportunity Policy
We prohibit discrimination with respect to the hiring or promotion of individuals, conditions of employment, disciplinary and discharge practices, or any other aspect of employment on the basis of sex, race, color, age, national origin, religion, disability, marital status, sexual orientation, gender identity, pregnancy, veteran status or any other basis of discrimination prohibited by applicable local, state, or federal law.