Principal CloudOps Engineer – Paper
Dev Ops & SysAdmin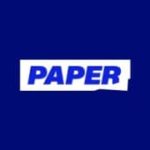 Paper (501+ Employees, 536% 2 Yr Employee Growth Rate)
185% 1-Year Employee Growth Rate | 536% 2-Year Employee Growth Rate | LinkedIn | $390.1M Venture Funding
What Is Employee Growth Rate & Why Is It Important?
Driven by the mission to democratize education, Paper is the largest provider of educational support, supporting millions of students through partnerships with thousands of school districts. Paper helps deliver true educational equity through their category leading Educational Support System (ESS) that offers virtual access to 24/7 tutors and essay reviewers. Founded in 2014, Paper philosophically believes that all students should be given the tools and resources to reach their academic potential, independent of socio-economic status, geography, language or other barriers. We are headquartered in Montreal, Quebec with remote employees across the US and Canada. Paper is proud to have been named by GSV as one of the most transformational growth companies in digital learning.
Reporting to our Senior Manager of Cloud Operations, the Principal CloudOps Engineer will provide technical leadership to our cloud platform team, focusing on the availability, reliability, security and performance of our cloud-native systems, and ensuring our services continue to delight our customers as we scale. This individual will cultivate and grow our DevOps culture and practices, providing tools and expertise that empower our engineering team to own their software from development to production. They will be a force multiplier on the cloud operations team, leading the team to deliver more efficiently through both their contributions and mentorship.
This position can be located in any geography in the US or Canada.
Responsibilities:
Automate the operation of our platform, making it more reliable, stable, secure, and scalable as our usage grows and architecture evolves.
Establish tooling and best practices for observability, infrastructure as code, and configuration management.
Foster a culture of continuous improvement and DevOps practices throughout the organization.
Ensure cloud infrastructure is secure and compliant with security controls.
Grow and mentor other cloud operations team members.
Improve our incident response procedures and maintain operational excellence.
Assist engineering teams with infrastructure capacity planning and performance testing.
Collaborate closely with product engineering leaders to identify and prioritize technical initiatives.
Plan and execute disaster recovery procedures and take part in business continuity planning.
Uphold and embody Paper's mission, vision, and values.
Qualifications:
5+ years of experience building reliable, scalable, and secure cloud-native solutions.
2+ years of experience leading a high-performing CloudOps/DevOps/SRE team.
Strong proficiency with cloud platforms such as GCP or AWS.
Deep understanding of observability best practices and tooling.
Experience with infrastructure as code tools such as Terraform.
In-depth cloud and infrastructure security knowledge.
Experience with security and privacy audits such as SOC 2.
Comfort with working in large, remote teams.
Strong problem-solving and troubleshooting skills.
#LI-Remote #LI-ST01
About Paper
Paper offers an exciting, dynamic, inclusive work environment putting excellence at the center of everything we do. Our mission is woven into the fabric of our culture, challenging our team to build meaningful and creative solutions.
We thrive when we collaborate with each other, and use integrity and selflessness to align our business decisions with our mission. We approach every challenge with positivity, achieving the outcome we want regardless of what gets in the way. Our tenacity propels our hyper-growth, where trust is key and we all strive to make an impact every day.
We believe that diverse teams build better products. Paper does not and will not discriminate on the basis of race, color, religion, gender, gender orientation, gender expression, age, national origin, disability, marital status, sexual orientation, or military status in any of its activities or operations.
Nobody checks every box, but the Paper team is built by passionate and innovative people who share our mission for democratizing education. If you don't think you meet all of the requirements above but are still interested in the job, please apply.
PS. Equity is our mission! We make sure to treat all candidates equally: If you are interested please apply through our job board – our amazing talent team will reach out! Our team isn't able to pass on any calls/ emails our way – and this makes sure that the candidate experience is smooth and fair to everyone.