Senior UX Designer Marketing & Communications team – Ad Hoc
Design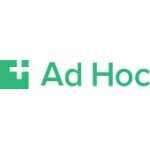 Ad Hoc (201-500 Employees, 88% 2 Yr Employee Growth Rate)
27% 1-Year Employee Growth Rate | 88% 2-Year Employee Growth Rate | LinkedIn | $0 Venture Funding
What Is Employee Growth Rate & Why Is It Important?
This is a fully remote position. 
We're currently looking for a Senior UX Designer with experience in print, web, and visual design for our Communications team.
Ad Hoc is a digital services company that helps the federal government better serve people. Our team of experts from across commercial industry and government brings the modern skills necessary to help agencies transform public services into digital services. Our work enables agencies to meet the needs of their users while closing the gap between consumer expectations and government.
What matters most
Ad Hoc operates according to our commitment to inclusivity, acceptance, accountability, and humility. We aren't heroes. We believe in missions larger than our individual selves and leave our egos at the door, learn from our mistakes, and iterate in order to better serve the people in our country. We prioritize building teams that represent the diversity of the people our government serves. We love the challenge of government-size projects. We want to bring skills to federal agencies, help them better meet the needs of their users, and close the gap between consumer expectations and government.
Built for a remote life
Ad Hoc is remote-first and remote-always. We've designed our culture, communications, and tools to support a nationwide distributed team since the beginning. Being remote by design allows Ad Hoc to be thoughtful and intentional about creating diverse teams and supporting them with a work environment that fits their lives. With a generous PTO policy and Slack channels for every interest (from birding to space nerds to parenting) our culture embraces the things happening in your life. Maybe you need to adjust your schedule to care for your family or take a bike ride. At Ad Hoc, that's embraced.
What you'll do
As a Senior UX Designer on our Marketing and Communications team, you'll create strong visual designs for external and internal Ad Hoc communications. You will be part of a team of designers, writers, and event professionals committed to maintaining and elevating the Ad Hoc brand and communicating our value to customers and partners. Your work will help the Ad Hoc team impact the lives of millions of people that interact with government services.
Deliver design work, including but not limited to marketing collateral, websites, customer and internal communications, business development materials, presentation decks, graphics for social media and ad campaigns, and other business visual communications
Provide graphic support to our proposal team working on winning government contracts
Use your design skills to make strong typography, layout, and hierarchy choices
Explore the problem before creating the right solution
Maintain and expand on the Ad Hoc brand throughout visual communications
Manage deadlines through teamwork
Own and execute projects from concept to finished release
Provide design critique, heuristic evaluations, and competitive analysis
Provide and receive mentorship from other designers
Contribute to design libraries, systems, and style guides
What we hope you'll bring
Strong background in human-centered graphic design and visual communications for print and web
3-5 years minimum experience designing business communications for print and PDF distribution
Portfolio demonstrating an understanding of good visual design, page layout, and typography for print/PDF deliverables and web
Intermediate to expert level skills in Adobe Creative Cloud, especially Adobe InDesign, Illustrator, and Photoshop
Ability to translate plain text content into compelling and visually appealing narratives for print and web
Ability to write HTML and CSS to build static website pages
Ability to create basic spot illustrations and infographics that convey information or add visual interest to increase readability and content consumption
An understanding of best UX practices for website design
Nice to have skills or interest in:

Understanding of accessibility and how to achieve it for websites and PDFs
Experience or interest with animation, motion graphics, or basic video editing/production
JavaScript skills for website design and production
Experience using Git to contribute to websites and digital products
More than that, our ideal candidate wants to contribute to work that is bigger than themselves and wants to make a difference collaborating with their team. They care deeply about building better products, better relationships, and better trust in each interaction people have with their government. They believe in intuitive, easy-to-use government services. They collaborate well with engineers, product, stakeholders, and other teams. They mentor and guide more junior designers.
And if you don't check every box on the list? That doesn't mean you can't help us in our mission to deliver critical government services. Talk to us!
Some basic requirements
All work must be conducted within the U.S., excluding U.S. territories. Some federal contracts require U.S. citizenship to be eligible for employment.
You must be legally authorized to work in the U.S now and in the future without sponsorship.
Our screening involves completing a homework assignment that is then graded blind to remove bias. We do not do tricky, unreliable whiteboarding tests. Learn more about our homework and processes.
Years of Experience:  3-5+ years
Degree Requirement: Bachelor's Degree in a design discipline is helpful but not required. Acceptable substitution: 3-5 years of hands-on experience in a relevant field and a high school diploma.
Tips for applying
If your application seems like a good match, we'll invite you to complete a quick writing assignment, which we evaluate blindly. This helps us have a greater understanding of how you approach design problems, while also reducing bias from our hiring process. We will not ask you to do any form of whiteboarding or spec work.
Include a portfolio of 3-5 UX-focused work samples with your application. We want to understand how you think and solve problems. Clearly explain your process and the reasoning behind the decisions made, include visual artifacts, and identify both your role and the impact you had. Your portfolio can be anything from a website to a slide deck. How you build it is up to you.
Ad Hoc is a great place to be. Our benefits package includes: 
Company-subsidized health, dental, life and vision insurance
Use what you need vacation policy
401K with employer match
Paid parental leave after one year
Continuing education/annual conference attendance stipend
Ad Hoc LLC is an Equal Opportunity/Affirmative Action Employer. All qualified applicants will receive consideration for employment without regard to race, color, national origin, ancestry, sex, sexual orientation, gender identity or expression, religion, age, pregnancy, disability, work-related
In support of the Colorado Equal Pay Transparency Act, and others like it across the country, Ad Hoc job descriptions feature the starting range we reasonably expect to pay to candidates who would join our team with little to no need for training on the responsibilities we've outlined above. Actual compensation is influenced by a wide range of factors including but not limited to skill set, level of experience, and responsibility. The starting pay for this role is $108,006 – $122,023 and information on benefits offered is here. Our recruiters will be happy to answer any questions you may have, and we look forward to learning more about your salary requirements.