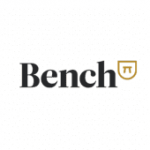 Bench / Bench.co (501+ Employees, 72% 2 Yr Employee Growth Rate)
Bench is the online bookkeeping service that pairs you with a dedicated bookkeeping team and simple, elegant software to balance your books.
21% 1-Year Employee Growth Rate | 72% 2-Year Employee Growth Rate | LinkedIn | $49.1M Venture Funding
What Is Employee Growth Rate & Why Is It Important?
What's Bench? Check us out in Fintech Impact, Perkins + Will, Daily Hive, BC Business, our Instagram, and our Blog.
We acknowledge that Bench headquarters is located on the traditional, ancestral, and unceded territory of the Coast Salish Peoples, including the territories of the xʷməθkwəy̓əm (Musqueam), Skwxwú7mesh (Squamish), and Səl̓ílwətaʔ/Selilwitulh (Tsleil-Waututh) Nations.
Our mission is to make a profound difference in the quality of life of one million people, by removing the financial complexity of entrepreneurship. Businesses need to understand their financial performance, but for many smaller ones, this means a trade-off between doing their books and running their businesses.
Bench solves this dilemma by taking bookkeeping off of their hands. Learn more about us on our About page. 
We're growing fast, and we're looking for exceptional people to join us on this incredible journey. Check out our culture guide to learn more about what it's like to work at Bench!
What does the People team look like?
We're a warm and caring bunch, obsessed with making a difference for our Benchmates. We're one of the most critical functions in our business. The People team carefully manages the employee experience from beginning to end. Our recruiters are people-focused individuals, driven to seek out the brightest talent that will support us in achieving our mission – to make a profound difference in the quality of life of 1 million people. We're looking for someone who has a knack for finding the most dynamic, diverse and unstoppable talent while providing a phenomenal candidate experience from start to finish.
What makes this an exciting opportunity?
Bench's Recruitment Team fuels our hyper-growth, so we're naturally one of the most critical functions in our business. Our recruiters are people-focused individuals who have the drive and calling to seek out the brightest talent and who thrive in an ever-evolving, and rapidly scaling, environment. At Bench, we're always looking for quality people to bring new experiences and ways of thinking to the table! This is where you come in. We're looking for someone who is passionate about recruiting and about people. You want to coach and mentor recruiters and help them improve so that they can find talent who will shape, design and deliver the future of Bench.
Here are some of the things you'll be getting up to:
With the support of the Manager, Recruitment you'll oversee the day-to-day of the Support & Specialist team.
Manage, motivate, and coach your recruiters to ensure exceptional delivery of on-time and high-quality talent acquisition.
Cross functional projects and initiatives to help drive a healthy talent pipeline and take action to ensure that we're always one sourcing step ahead of our hiring managers.
Build and maintain strong relationships with leaders across the business. Work with them to make sure that your teams are meeting business needs and your goals are aligned.
Anticipate potential future issues and blockers for your team and take action to reduce barriers before they come up.
Surfacing new and exciting ideas and opportunities to better your teams and the recruiting team as whole. Innovation is the name of the game here!
To be successful in this role, you'll need to have:
3+ years of recruitment experience: You really know recruitment, all of it from end-to-end and can be a sounding board for your team. Ideally, you have worked in both an in-house and an agency environment.
1-2 years of coaching/leadership experience: You are passionate about recruiting and want to develop each member of your team to their fullest potential.
A well-developed equity lens: You actively engage in the leadership of teams and of strategic-level recruitment with an equity lens and an eye for inclusivity. You don't just accept equitable practices, you model and advocate for them.
A people-centered approach: You understand that people are everything. You're collaborative, optimistic and you listen to understand, demonstrating kindness and empathy in all interactions.
A drive to make things better: You're not satisfied with "good enough", and nothing that needs fixing is just someone else's job. You love to experiment, try new things, and drive improvement; within your own team, and across the organization.
Intellectual curiosity: It's not enough for you to know the what – you need to know the why! You are energized by challenging problems and are persistent/resourceful in your efforts to solve them.
Startup hustle: You are highly motivated, proactive, comfortable with change and ambiguity. You have a humble, team-player attitude and are ready to pitch in wherever you are needed most.
The extra details:
This is a full-time permanent position because we want to spend lots of time with your wonderful self!
At Bench we share information freely and openly whenever possible. The salary range for this role is $78,800 – $98,600 per year, depending on experience
In addition, this position offers an extended benefits package that includes paid vacation, paid flex days, stock options,  and full health, dental, and vision.
You'll get unlimited access to Inkblot Therapy, our virtual counselling service to support mental wellbeing, and Bravely, our confidential, on-demand, 1:1 professional coaching service.
Bench has a number of Affinity Groups – groups of people who have shared identities and experiences! The purpose of these groups is to support underrepresented Benchmates and amplify their voices.
Our HQ is in Vancouver BC, where we offer hybrid and remote working opportunities. This full-time position also has the flexibility to work remotely from anywhere else in BC, as well as AB and ON. Whether working remote or hybrid, we'll set you up with everything you need to work from home, from day one.
We believe that unchecked biases disproportionately impact the most marginalized people in society—including but not limited to BIPOC, LGBTQ2S+ people, immigrants, and people with disabilities. We strongly encourage applications from people with these identities or other marginalized communities because we believe that without you, we are all less. At Bench, we don't stand for tokenism. We stand for representation.