Community Manager – Maybe
Marketing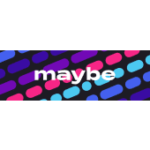 Maybe (51-200 Employees, 23% 2 Yr Employee Growth Rate)
18% 1-Year Employee Growth Rate | 23% 2-Year Employee Growth Rate | LinkedIn | $0 Venture Funding
What Is Employee Growth Rate & Why Is It Important?
About the job
As Community Manager at Maybe, you'll be responsible for designing & building a vibrant, active personal finance community across multiple mediums and platforms.
You'll start and nurture conversations, organize and host podcasts, online events, meet-ups and more. You'll build relationships with key contributors and influencers, deepen brand engagement, and extend our reach across the internet and IRL.
You'll work together with our content team to make sure our message is spread far and wide. Ultimately, you'll be the face of the Maybe brand and the driver behind a lively and engaged community.
About you
You love a good meme and you don't take yourself too seriously.
You have deep knowledge and interest in personal finance and want to help people take control of their financial future.
You're comfortable in front of people IRL, on audio and on video.
Networking comes naturally to you since you love to meet new people.
You're social media savvy and you're in the know about relevant niche platforms.
You know how to organize, promote and host events.
You have the ability to identify and track relevant metrics to measure your success.
You have knowledge of online marketing and marketing channels.
You can juggle multiple projects while knowing what to prioritize.
About Maybe
At Maybe we're building the next generation of financial & retirement planning tools. Founded in 2021, we're working to equip consumers with the resources they need to take control of their financial future.
Working 30 years and then riding off into the sunset at 65 isn't the goal for most people anymore. They want to experience life, take risks and pour their hearts in to what matters most to them. They want to dream. And Maybe helps them do that.
Maybe you open a coffee shop? Maybe you take a trip to Asia? Maybe you put your money in to index funds and live off the returns? Maybe you dabble in crypto? Maybe you invest in art? Maybe you buy your dream home?
Maybe helps you figure out what's possible and how to get there.
Compensation + Benefits
Work from anywhere (we're 100% remote)
$87,000 per year
Guaranteed 3% raise every year
10% annual equity bonus
Minimum vacation policy (we expect you to take at least 4 weeks off per year)
Full health, vision & dental insurance for you and your family
Paid leave for major life events (birth, adoption, medical, etc)
Apply for the job
Do you want to join our team as our new Community Manager? Then we'd love to hear about you!