Motion Graphic Designer – Toptal
Design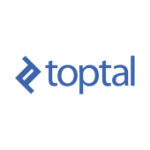 Toptal (501+ Employees, 42% 2 Yr Employee Growth Rate)
20% 1-Year Employee Growth Rate | 42% 2-Year Employee Growth Rate | LinkedIn | $0 Venture Funding
What Is Employee Growth Rate & Why Is It Important?
Motion Graphic Designer
About Toptal
Toptal is a global network of top freelance talent in business, design, and technology that enables companies to scale their teams, on-demand. With $200+ million in annual revenue and over 40% year-over-year growth, Toptal is the world's largest fully remote company.
We take the best elements of virtual teams and combine them with a support structure that encourages innovation, social interaction, and fun. We see no borders, move at a fast pace, and are never afraid to break the mold.
Position Description
We are looking for an experienced Motion Graphics Designer to help us build and evolve the Toptal brand. As part of the Video and Photography team within Marketing, you will have the opportunity to make an immediate impact among a group of highly collaborative and smart colleagues who deeply value innovation and quality. You will elevate the overall brand expression of Toptal by providing motion design support on key initiatives and by owning specific projects. You will partner closely with designers, marketing managers, project managers, art directors and copywriters to design a range of animated motion assets for internal and external communications. Your contribution will have a significant impact on furthering our brand's expression and inspiring colleagues across production, design, brand, and marketing. This position requires a balance of creativity, collaboration, improvisation and leadership in a fast-paced, iterative culture.
This is a remote position that can be done from anywhere. Due to the remote nature of this role, we are unable to provide visa sponsorship. Resumes and communication must be submitted in English.
Responsibilities:
Develop motion-based creative for digital marketing, social content, internal communications, and more that is conceptually sound and elevates Toptal's brand expression.
Work closely with Video Producers, Designers, Art Director and Copywriter teams, and other stakeholders to develop creative direction for animations and motion graphics.
Concept and implement design ideas quickly, producing comps, storyboards, initial graphic concepts, and final deliverables.
Utilize visual storytelling skills to create concepts that inspire and motivate.
Provide creative insights that take projects from tried-and-true to truly innovative.
Augment video using rotoscoping, masking and other techniques to enhance or correct footage.
Consult with outside animation vendors and studios, acting as primary coordinator for outsourced animation and motion projects.
Work within existing motion templates and create new templates as needed.
Iterate work as needed, presenting multiple ideas across multiple stakeholder approval levels.
In the first week, expect to:
Learn the basics through Toptal's thorough onboarding process.
Study Toptal's brand guidelines and visual language.
Meet your colleagues in design, marketing, content, and production.
In the first month, expect to:
Get comfortable with our processes and tools.
Partner with a producer and designer to build social media posts.
Begin creating custom templates based on existing brand motion systems.
In the first three months, expect to:
Complete a series of animated video series/campaigns.
Brainstorm with colleagues to generate new marketing ideas.
Collaborate with the creative team to conceptualize the motion toolkit for a new marketing campaign.
In the first six months, expect to:
Lead the motion design aspects of a large-scale marketing initiative.
Have established yourself as an organized, creative and helpful motion design partner to non-design colleagues.
Present work to leadership.
In the first year, expect to:
Establish your reputation as a smart, creative, and inspirational motion design expert.
Inspire colleagues to continually advocate for world-class premium creative.
Requirements:
5 years of professional experience with an agency, in-house creative team, or production studio.
Dynamic portfolio that showcases an understanding of brand expression through motion and refined sensibilities across motion disciplines.
Expert in Adobe After Effects, Illustrator, and Photoshop.
Proven experience in 3D animation and software (Cinema 4D, Maya, etc).
Proven command of design principles (layout, composition, color) and storytelling.
Experience with Premiere/video editing a big plus.
Experience in branding work (brand development, brand refresh) and campaign development, big and small – from brand campaigns and tentpole ideas to seasonal campaigns and promotions.
Highly collaborative with willingness to work in group settings while meeting deadlines for multiple stakeholders at all levels in the organization.
Excellent multi-tasker – brainstorming and developing ideas for multiple projects simultaneously, remaining flexible through revisions while keeping a keen eye on every detail.
Experience presenting work in meetings and pitching creative ideas to multiple stakeholders.
Ability to communicate clearly and constantly with teams via Slack and other collaboration tools.
You must have outstanding written and verbal communication skills, as well as perfect grammar and command of the English language.
You must be open to receiving feedback and constructive criticism.
You must have excellent time management skills.
You must be a world-class individual contributor to thrive at Toptal. You will not be here just to tell other people what to do.