NLP Engineer – Fleksy
Software Engineer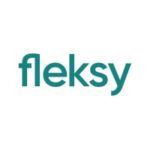 Fleksy (11-50 Employees, N/A 2 Yr Employee Growth Rate)
N/A 1-Year Employee Growth Rate | N/A 2-Year Employee Growth Rate | LinkedIn | $2.8M Venture Funding
What Is Employee Growth Rate & Why Is It Important?
Job description
About Fleksy
Fleksy (Thingthing Ltd.) is a dynamic software company specialized in developing software typing technologies. For Consumers (B2C), we help millions of smartphone users elevate their typing experience thanks to the Fleksy keyboard, one of the world's most popular virtual keyboards in the world. On the B2B side, we serve dozens of small, medium, and large companies leveraging our powerful Fleksy SDK, which has grown significantly in the past couple of months (see coverage on TechCrunch).
As a potential new team member, you'll be part of a fully remote team with HQ in Europe. We're looking for an amazing personality & a "hungry-for-more" talent to join our fast-growing company within a work environment that nurtures autonomy and independence. We hope you can join our team soon!
What will be your role?
As a Software Engineer on the mobile NLP team, you will help ensure that Fleksy's functionality is available offline and can work without internet connectivity. Our team works with many others to ensure that we can run ML on a user's device and reduce the reliance on an internet  connection or a cloud infrastructure. This is a part of the company's agenda to improve users' privacy without harming the high level of quality and experience that we provide.
How's Fleksy's culture?
At Fleksy, we believe in Transparency, Reliability, Authenticity, and Fairness. But what does it mean?
Transparency is the foundation of trust, and we think it should be the same among all humans.

Example: we share management information across all teams, invite for feedback every Quarter, and conduct 1:1 regularly

Reliability is about being hungry to build outstanding products you can trust and love to use every single day.

Example: every team member owns a fair share of responsibilities, and each team member expects the other to be reliable as they are

Authenticity means that we listen before we act to offer the best solution, even if it's recommending our competition.

Example: everyone is unique, has its own personality, challenges, goods and bads — we respect "being different"

Fairness is all about behaving the way we want to be treated because it creates trust, and we promote it every day.

Example: as a team member, you'll own a piece of our company. We even have "fast vesting" which gives you all the rewards even if your shares are not vested yet.
What will you be doing?
At Fleksy, we have a flat structure that nurtures independence, autonomy, schedule flexibility, and much more! So here's what you'll be doing:
Adapt existing cloud-based models to different user environments (mobile, desktop, etc.).
Develop and improve existing models that we've built within the team (such as autocorrect, swipe, and phrase-completion models).
Support and improve our cloud infrastructure for on-device models, A/B testing, and distribution.
What can you expect?
Competitive compensation package depending on experience level (50k€ – 60k€ yearly gross salary) + stock option plan

Paid 24 days off per year (Above standard within the EU)

Company perks to help you work better and grow personally

Flexible remote work

Bi-annual team-building activities
Job requirements
2+ years of professional experience with native development in C++.
2+ years of professional experience with Python.
Is a strong coder with a good understanding of algorithms and data structures.
Has experience developing machine learning models.
Has—as a plus—experience with natural language processing or model distillation.
Ability to communicate complex qualitative analysis in a clear and precise manner
Ability to work remotely with geographically distributed team members and developers.
A self-motivated team player with interest in continuous learning
Excellent level of spoken and written English
Master's Degree or above in either Computer Science, Mathematics, Statistics or preferred or equivalent combination of education and experience
Fleksy for Inclusion
If you don't meet 100% of the above qualifications, you should still seriously consider applying. Studies show that you can still be considered for a role if you meet just 50% of the role's requirements.