Partnership Associate, Key Accounts – Paper
Sales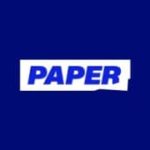 Paper (501+ Employees, 540% 2 Yr Employee Growth Rate)
171% 1-Year Employee Growth Rate | 540% 2-Year Employee Growth Rate | LinkedIn | $390.1M Venture Funding
What Is Employee Growth Rate & Why Is It Important?
Driven by the mission to democratize education, Paper is the largest provider of educational support, supporting millions of students through partnerships with thousands of school districts. Paper helps deliver true educational equity through their category leading Educational Support System (ESS) that offers virtual access to 24/7 tutors and essay reviewers. Founded in 2014, Paper philosophically believes that all students should be given the tools and resources to reach their academic potential, independent of socio-economic status, geography, language or other barriers. We are headquartered in Montreal, Quebec with remote employees across the US and Canada. Paper is proud to have been named by GSV as one of the most transformational growth companies in digital learning.
To succeed in this role, you must be both tenacious and emotionally intelligent in your approach to cultivating customer interest and new business opportunities. You'll write compelling prospecting emails, and follow up with insightful phone interactions, to ensure Paper understands and can meet each prospect's unique goals and needs. Your ultimate goal is to produce valuable partnerships that benefit Paper, as these are the largest accounts in the state. These accounts require patience and dedication.
Responsibilities:
Articulate the Paper value proposition, to assess customer goals, needs, and buying interest.
Create a positive first impression with our prospects and customers by providing them with a world-class experience.
Send precisely written business emails, and conduct highly effective follow-up phone calls, on a daily basis.
Qualify sales opportunities, and facilitate prospect introductions for the Partnership Managers.
Overcome customer objections to generate quality opportunities for the Partnership Managers.
Consistently achieve individual and team KPIs of qualified opportunities and pipeline progression.
Associates are responsible for generating interest and building a partnership story that responds to the problems facing prospective customers. This includes phone calls, email communication, videoconferences, virtual demonstrations of Paper's services, and the preparation of proposals tailored to the customer.
Qualifications:
B2B Inside Sales experience.
Familiarity with the public and private education system.
Familiarity with CRM software.
Excellent written/verbal communication skills.
Public speaking & presentation skills.
Track record of success.
Teamwork-oriented and comfortable being both a leader and a support member.
Strong listening skills and ability to understand unique customer problems.
Strong problem-solving skills.
Motivation, driven and a self-starting attitude.
Ability to work in a fast-paced, team environment.
Ability to multitask, take initiative, prioritize, and manage time effectively.
#LI-Remote #LI-JE1
About Paper
Paper offers an exciting, dynamic, inclusive work environment putting excellence at the center of everything we do. Our mission is woven into the fabric of our culture, challenging our team to build meaningful and creative solutions.
We thrive when we collaborate with each other, and use integrity and selflessness to align our business decisions with our mission. We approach every challenge with positivity, achieving the outcome we want regardless of what gets in the way. Our tenacity propels our hyper-growth, where trust is key and we all strive to make an impact every day.
We believe that diverse teams build better products. Paper does not and will not discriminate on the basis of race, color, religion, gender, gender orientation, gender expression, age, national origin, disability, marital status, sexual orientation, or military status in any of its activities or operations.
Nobody checks every box, but the Paper team is built by passionate and innovative people who share our mission for democratizing education. If you don't think you meet all of the requirements above but are still interested in the job, please apply.
PS. Equity is our mission! We make sure to treat all candidates equally: If you are interested please apply through our job board – our amazing talent team will reach out! Our team isn't able to pass on any calls/ emails our way – and this makes sure that the candidate experience is smooth and fair to everyone.