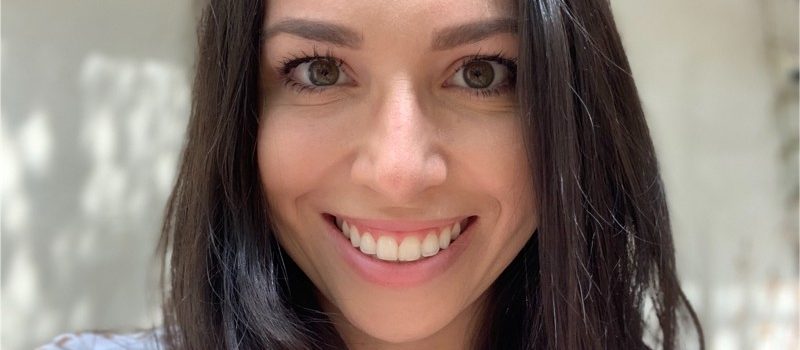 This is an interview about remote work with Jessica Armstrong, a marketing and partnerships associate at TeamUp. Thanks for sharing your story with us Jessica!
Why did you start working remotely and how do you compare it to your previous work experiences?
My first remote work experience began in March 2020, one week before the pandemic was declared in Spain. I had been previously working for four years for a travel start-up in an office environment in Sevilla when I jumped at the opportunity to transition companies to be a freelancer for a new travel company to take my career further abroad.
Unfortunately, with the pandemic, my work from home life did in fact turn into only working from home, however, I quickly found this to be a good thing. After working with that company for 6 months, I began working for TeamUp, fitness management software and have just celebrated my one year anniversary with the remote company.
Having worked in several different settings from hotels, to an office, to my now at-home office spare bedroom, here are my biggest personal takeaways:
I am much more focused at home. As a social person, I didn't realize how much the exciting hustle and bustle environment distracted me. While I don't believe this took away from the job at hand, I do believe that my focus on getting down to it and concentration as well as time management have greatly improved.
I also enjoy the flexibility of remote work. Since joining TeamUp, I have worked from my house, my family home in California, a beachfront rental in Hawaii, a resort in Portugal, an Airbnb in Southern Spain, and look forward to where I'll go next. This was something I deeply craved, to be able to work from the comfort of any which destination, and I am utilising the flexibility to pack up and explore to the best of my abilities.
My morale and mental health have increasingly improved. At TeamUp, while we do not work face to face, our company goes out of its way to make our employees feel a part of the community. We have virtual meetups, we are collaborative, and they support us in other remote work activities as well including our own fitness journeys. The fact that a fitness business encourages their employees to exercise and invests in our physical and mental wellbeing shouldn't be a shock, but it also isn't the norm, and it is one of the things I appreciate most about being their employee.
I feel more value in my work and the effort I put into succeeding. Accountability is huge for me and it is also essential when working for a remote company. The fact that I do not have someone monitoring everything I do yet has expectations of me relieves so much pressure for me to actually focus and concentrate on delivering a product and project both I and my team can be proud of.
What is your background and what do you do for work?
Currently, I am the marketing and partnerships associate at TeamUp, fitness management software. My responsibilities include everything from PR and social media, to blog and content curation and distribution. I focus predominantly on helping fitness business owners learn how to best run their businesses, with the help of our software and resources. I also guest write for other fitness blogs and websites to bring exposure to TeamUp and our clientele.
What are the most important digital tools that your company uses?
As a remote company, we use a plethora of tools and features to communicate efficiently and collaborate, including Notion, Slack, and Basecamp. Having used Slack in the past, I have found it works great for team meetings and messaging, while Basecamp and Notion have been fundamental in collaborating and working on projects, content, and distribution, as well as task and project management.
What are your favorite and least favorite things about remote work?
My favorite thing about remote work as mentioned above is the flexibility. I love my routine, and saving so much time by working from home has actually encouraged me to leave the house more and take advantage of the mornings, afternoons, and even long lunches to get out, explore, and do things outside of work. All of which contribute to my overall mental health and attitude I bring to work daily.
My least favorite thing would have to be the occasional moments of isolation and loneliness. It is a bit of a shock to go from a busy office environment to yourself in your house, but I take that and turn it into focus and concentration, leaving social hours for when I am done and can enjoy the disconnect.
What are some of your biggest recent business learnings that other people can learn from?
Clear communication, accountability, and consistency are key. This isn't necessarily a recent takeaway but I think it is one of the most important. It's so easy to fall into a lazy pattern especially when working from home or to be distracted with things such as laundry, cooking, turning on the TV in the background, but try to avoid doing these things during your work time. Or alternatively, if you want to do these things to break up the day, plan the time you will take a break or give yourself tasks to complete and reward yourself by taking a break to be productive in other areas. If you can avoid breaking your productivity and flow, I'd always advise against it.
My biggest piece of advice whenever anyone asks me how to grow in their career and get ahead, is to network. It's not utilized enough early on especially with the amount of online tools and communication we now have. People either go the route of over-using or under-using social media rather than learning how to best use it both personally and professionally. Networking is one of the positives social media offers and there is no one stopping you from taking advantage of access to some of the most successful leaders in business. They want you to be successful too.
Who are your favorite thought leaders in your field (that other people can learn from)?
Shola Richards has an excellent TedTalk on Ubuntu: the one word to change how you work, live, and lead. His focus is on building and sustaining a better workplace environment. He has been very influential in how I am as a colleague, friend, and partner, as well as how I live my life outside of the office and I recommend everyone to check out his talk, here.
What are your best tips on maximizing productivity?
Build a routine, build a routine, build a routine. I can't say it enough, but it makes life and productivity go much smoother. And when one routine doesn't work out have a backup. I love my early morning workouts but I also love sleeping in when I can, so having a routine doesn't need to be strict, but I enjoy going into my day knowing what's ahead and leaving time to see what comes up and along. I also love using organisational tools for my project and time management such as Notion and Basecamp. They are excellent tools for remote businesses.
What small change has made a big difference in your life?
The pandemic has put a lot of things into perspective for me. I can be quite a 'yes' person, but learning how to say 'no' when needed and appropriate has given me a lot of time to focus on myself, grow, and improve in areas of my life that make me a better person because I took time for myself.
What's the best purchase you've made under $100 in the last 12 months?
My best purchase under $100 in the last year I'd have to say would be my new fan (Sevilla gets hot in the summer). My best purchase over $100 is definitely my standing desk.
What software or app that you pay for has added the most value to your life?
Mental health is very important to me and with the past year especially I have found several apps to provide a great ordeal of comfort and calm to my life including Calm and I Am for meditation and affirmation. I also love Spotify for podcasts and music, and I am the recent owner of an Apple Watch which has been great at keeping me motivated in my fitness journey.
How can people learn more about you and your work?
I have found Linkedin to be such a great network and resource for both employees and employers and definitely utilise Linkedin to showcase my marketing content, articles, and interviews. All of which can be found on my Linkedin page.
You can stay up to date with all my fitness business content on TeamUp, https://goteamup.com/resources where we post up to 5 blogs weekly.